Looking for something to do tonight? Looks like you're in luck! There are a plethora of options. My pick? The Hate at the Marquis Theatre opening for Peelander-Z.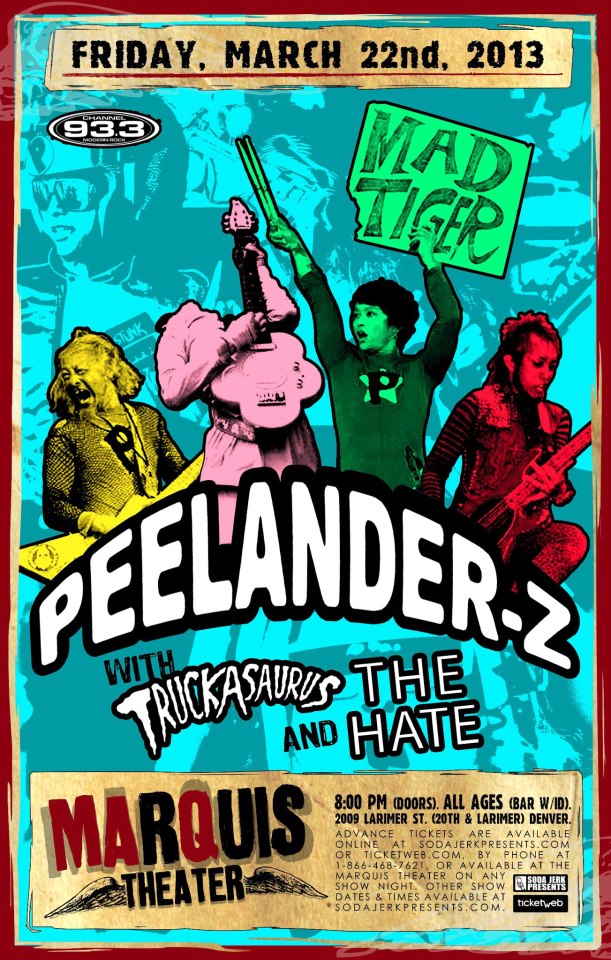 The Hate is a great band and are nominated for Best Punk Band of Denver in the 2013 Westword Music Showcase Ballot. And? My brother, Stefan, is playing drums for them tonight, even more incentive for you to join me for this show!
The Hate:

And Peelander-Z? Japanese Punk band that kind of resembles Power Rangers. I saw them at SXSW a few years ago, and it was definitely an entertaining show and I have to admit their songs, while they're simple, are quite catchy.
Peelander-Z:

Is Punk Rock not really your jam? Well there are a few other things tonight that I would check out.
Tonight marks the end of two other great Denver bands: Regret Night and Be Brave. They will both be playing at Summit Music Hall with another great local band, Places. If Pop Rock is more your thing, I'd head here tonight to play tribute to both bands.
Are you more into The Lumineers? Well, they aren't in town, but the band that opened for them on their last tour has their CD release at the Oriental Theatre tonight! Paper Bird is releasing their new album and opening for them is He's My Brother, She's My Sister. I saw HMBSMS last year at the Larimer Lounge, and was so impressed! Mainly by the tap dancing drummer. You heard that right, the drummer tap dances on the bass drum! So fun to watch.
Lastly, not into music (why are you even here)? The Denver Auto Show is taking place in Denver all weekend. I'll be there tomorrow checking out all the awesome new cars.
Hope this helps you plan your night!