Every so often we're incredibly lucky to be given a chance to listen to some of the first pieces of new upcoming music in our Denver scene. One of the best examples being some of Monika and I's favorites, Air Dubai. From having their music played on MTV's Jersey Shore and getting signed with Hopeless Records, to making a name for themselves in Denver and other states alike, Air Dubai has an incredibly bright future ahead of them – their new EP only reassures me of that blatant fact.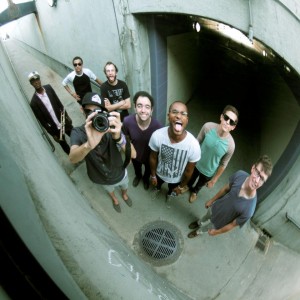 The summer vibes that they create make everyone want to dance, make us forget that we have any sort of responsibilities, and put the world in an atmosphere that is nothing short of a constant party. The combination of beats, guitar, drums, and two voices that compliment each other like peanut butter and jelly make you move no matter where you are. I recently listened to their new EP, and it feels like I'm five years old, getting to open all of my Christmas presents on Christmas Eve. I couldn't get through 30 seconds of the first track without being wide awake, moving my body to the chords and getting lost in the sound. Air Dubai is one of those bands that no matter where they're playing, day or night, hot or cold, live or recorded, they always stay consistent. Consistently grabbing my attention, making me move, drawing me into craving more of their music just so I can keep dancing. The EP is different than previous albums Day Escape and Wonder Age in the sense that while still being something that gets you up and moving, it's the kind of album that keeps you on your toes; never really knowing what to expect next in the most lovingly curious way.
The sounds are sewn together to form a sense of such strong depth that really makes you connect and focus on the music – smooth tones with bold sounds that create something overwhelmingly endearing. The EP is put together in a way that demands attention from it's listeners – which it gains in less than a minute. Air Dubai always has honest lyrics, heartfelt sounds, and a strong habit of igniting fires in the hearts of music lovers everywhere, music that make you never want to stop dancing. We'll be looking forward to hearing from all of you what your favorite tracks on the EP are the second that you hit "play". In the meantime, make sure to check out Air Dubai's music video featuring Patricia Lynn and buy their latest EP, Warning, on iTunes.
Air Dubai's "Warning" ft. Patricia Lynn:
Check out Air Dubai some more:
Air Dubai is also currently on tour, check them out in your city on these dates:
w/ Marianas Trench & Protector
5/16 Spokane, WA- Knitting Factory
5/17 Portland, OR- Hawthorne Theater
5/18 Seattle, WA- Showbox at the Market
5/21 San Francisco, CA- Slims
5/22 West Hollywood, CA- House Of Blues
5/23 San Diego, CA- House Of Blues
5/25 Salt Lake City, UT- The Complex
5/28 Dallas, TX- South Side Music Hall
5/29 Houston, TX- Warehouse Live
5/31 Orlando, FL- House Of Blues
6/01 Atlanta, GA- The Masquerade
6/02 North Myrtle Beach, SC- House Of Blues
6/04 Nashville, TN- Cannery Ballroom
6/05 Charlotte, NC- The Fillmore
6/07 Silver Sping, MD- The Fillmore
6/08 Philadelphia, PA- Theatre of Living Arts
6/09 Ashbury Park, NJ- Stone Pony
6/10 Boston, MA- Paradise Rock Club
6/13 New York, NY- Irving Plaza
6/14 Detroit, MI- The Fillmore
6/15 Buffalo NY- Artpark
6/18 Cleveland, OH- House Of Blues
6/19 Cincinnati, OH- Bogart's