I'm not one of those huge Ke$ha fans, actually you could say that maybe I don't like her at all, but today I was reading a review done by Denver Westword on a collaboration that she did with The Flaming Lips, suggesting that it was "2012's most unexpectedly great collaboration". Clearly I'm a bit biased on this simply because I've never really taken Ke$ha's music career seriously. Even reading the things that she posts on her Twitter account really made me question what the hell this woman was trying to achieve. I fully understand that in this industry, as a musician, you have to keep people on their toes so that they won't get bored with you and Ke$ha has definitely done that. The amount of people that love her is pretty equal to those that dislike her…and I think today I might be somewhere in the middle rather than on the strongly dislike side. Colorado's very own 3OH!3 even did a collaboration with her a couple of years ago with their song "My First Kiss", which actually happens to be a song I'm pretty fond of.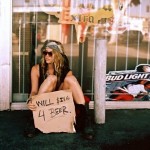 Anyways, I was listening to this collaboration that Ke$ha and The Flaming lips did, "You Must Be Upgraded", and it didn't exactly hook me in on becoming a Ke$ha fan. After reading more of this Westword article, they mentioned her doing a cover of one of my favorites, Bob Dylan's song "Don't Think Twice, It's Alright". Now please understand that I'm extremely anti-covers, especially when it comes to the perfection of Bob Dylan. There are a couple covers that I like including Fiona Apple's cover of The Beatles song, "Across The Universe" (the only Beatles cover I will ever approve of), and of course the Denver band Places'  fantastic cover of "Round Here" by Counting Crows, which I will daringly say I think is better than the original (sorry Sam Lee). After going through YouTube to find this cover that Ke$ha did (very hesitantly searching) to see if this Bob Dylan cover was something that might be something that I like…I found it and was pleasantly surprised. Westword is absolutely right when they say that Ke$ha cutting down the autotune is something that's done her a lot of justice, because this is a completely different side of her that I strongly approve of. I am by no means saying that this cover of Ke$ha singing Bob Dylan's "Don't Think Twice, It's Alright" is better than the original, but it's pretty damn good. I highly encourage you to check it out or at least try to give it a chance like I did, you might be shocked in the complete 180 of her voice.
Check it out:

Is anyone else as surprised as I am to say that this really isn't a bad cover?